"Beauty comes from the inside" – Along with attracting customers and impressing clients it is important to maintain good bond with the inside people. It is not needed to be told how you must behave with them, but this article is all about how you show them that you care.
Walls of your office are the boundaries that bring people together under one roof in the name of organisation or company.Use those walls to remove the boundaries in the minds of people in the office. Recent study reveals that Graphic interior design (Wall and Door) enhances the office environment.
Below are some of the points which shows the importance of graphics in office.
Makes-the work environment better
Your office reception or lobby needs to be comfortable and welcoming. You can create a hospitable environment with wall graphics. Generally bright colours with attractive graphics or inspiring quotes creates a positive environment and boosts productivity.
Endorse company culture
Each office upholds an individual brand value. It is necessary to artistically induce the company's brand into the lives of your employee and customers. Wall graphics helps you in maintaining the focus of objectives and values of company by creating a positive ambience.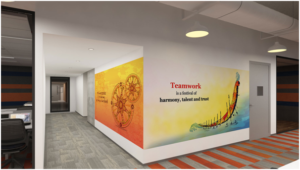 Encourages creativity
Office is nothing but a room full of creative people joining hands to help an organisation grow. And often big achievements are made from positive words and encouragement. Through graphics you can boost the creativity and innovation ability in the group.
Easy and Flexible
It is necessary to frequently change the atmosphere in the office. It brings freshness in thoughts and thereby works. Graphics are comparatively cheap, temporary and are easy to replace. Product updates, company accomplishments and messages wouldn't be the same always. Wall and glass graphics help you keep updated and renewed.
Keep your employees and customers cheerful and maintain the lively essence of your office with Wall and Glass Graphics from the talented, creative and experience professionals of Art Hill.